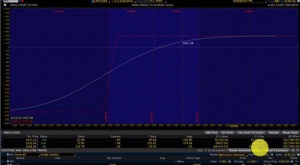 I am blown away by the number of emails I'm still getting about my Interactive Trader weekend seminar. I Tweeted my post out a couple of times and left it at that, but the emails keep pouring in. I get asked the same things quite a lot, so I wanted to put this out there and let you know where I'm at now.
Here's the quick background – About five months ago, my husband and I attended a National Achievers Congress day featuring Tony Robbins. Essentially the day was a back and forth between uplifting speakers (Robert Herjavec), sales seminar (You have a Millionaire Mind), uplifting speaker (Gary Vaynerchuk), and sales seminar (Let Us Help You Buy Real Estate). And about halfway through the day, this guy got up there and gave a sales seminar on buying and selling stock options.
In a nutshell, you can buy or sell an option to buy or sell a stock, but the options are much less expensive than the actual stock. Right now I can't afford to buy Facebook stock, but if I buy an option to buy Facebook stock, I spend less money AND I can make or lose money.
I'm not a trained professional, and I can't give advice, but when this guy was talking and explaining the math behind options, I thought, "I can do this!" So at the end of the sales pitch, I went up to the table and paid my $997 to attend a weekend seminar. I attended the Interactive Trader training in April 2017 in Portland, Oregon.
After that weekend I had a lot on my mind and a lot to think about, because in all reality, I knew I could grasp the concepts and learn how to trade options. I knew it had the potential to make money, but only if I could get some training and figure out how to be consistently good at buying and selling options. It should also be noted that the Interactive Trader "education" was $19,997. So it wasn't that I didn't want to do this, there was no way I was going to do it, not without going into more debt.
I came home one evening from the weekend seminar and I Googled Interactive Trader and I found nothing but their website and their Facebook page. There were no reviews, no news articles. There was nothing. Crickets.
So I posted about my experience because I felt let down and more than a little deceived by the weekend and I wanted others to know. My post about my Interactive Trader weekend hit a nerve with a lot of folks, and I've received a lot of emails. I love reading them, and I've responded to every single one of them.
So please keep sending your emails. I want to read them, and I'll keep responding.
This post is to let you know how things are going for me now and answer some of the questions I get via email quite a lot.
Did I ever find out any more about Kevin O'Leary?
I didn't, but when I Googled Interactive Trader today, there is a sponsored ad at the top of my search result that says "Kevin O'Leary – Interactive Trader – ibm.com". When you click on the link you go to a tech page within the IBM web site that says Interactive Trader worked with his people and maybe you could, too. It is worth noting that this article is not anything published by Kevin O'Leary or Interactive Trader. It's published by someone named Melissa Thompson. I also went to the Kevin O'Leary web site, and there is nothing on his site about Interactive Trader. You cannot search his web site, but I checked his Press page and the most recent news posted there is from January 2016.
Why does Tony Robbins affiliate with the National Achievers Congress and Success Resources America?
I can't answer this question and a lot of people have asked me. I don't know why. There does seem to be a general disappointment in Tony Robbins in the emails I get from people. To me the entire day felt like a ploy to offer "get rich quick" schemes to people who were down on their luck. I was there to see Tony Robbins. I've had a Date with Destiny week on my bucketlist for year and years. His part of this day I attended was fabulous, but overall, I don't know why he does it. Every sales pitch before Tony Robbins got on stage was a misleading, money sucking, sad experience. And I signed up for one of those seminars! The only thing I can think of is either Tony Robbins didn't know (which is very unlikely), or they offered him a freaking boatload of money to do it. Both of those thoughts could be wrong.
Do I regret going to that Interactive Trader weekend?
No, I don't. I was disappointed at first. That Friday when I was told how expensive the education was and I knew I wouldn't do it, I considered leaving, but I also knew I could learn options. After the weekend was over, I realized the most important thing I learned was that I wanted to know more about options and trading options. If I hadn't completed that weekend seminar, I would not have learned some of the very basics of options trading and I would not have some understanding of how it worked. If I hadn't gone, I wouldn't have followed up and found some excellent education elsewhere. I wouldn't have had the drive to learn more.
Do I regret not buying the Interactive Trader education?
Absolutely not! It was $19,997, and even the lesser education was $12,997. I watched younger couples sit out at tables in the hallways on the last day with their credit cards out on the phone asking for credit line increases. I saw the stress. I watched people sign the Seed Capital forms to finance the education. I went into this with an open mind but also knowing that there was no way I was going to go into more debt to pay for it. The goal was to make money, not go into debt to make money.
I've signup for the weekend, but I haven't gone yet. Should I get a refund?
A lot of people email and tell me they just paid the $997 (some paid $297), but they haven't attended the weekend seminar yet. They ask me if I think they should ask to get their money back.
I cannot answer this question. I didn't try to get my money back, and I'm sure laws vary from state to state on how this works. I can imagine that it is probably difficult to try and get your money back and that if you do, whoever answers the phone on the other end of that request is supposed to talk you out of it. Like I mentioned above, I was disappointed initially, but I took it as a learning opportunity, and it set me on a path I wouldn't be on otherwise.
Do I use or do I still use the Interactive Trader software?
I did use it for the free month I was granted access to the Interactive Trader software. I even attended two online webinars where someone who "built" the web site explained how it worked. It was a three webinar series, but I didn't participate in the last one because I'd already been to the seminar weekend at that point and I knew I wasn't going to buy their education or pay for the access.
What software to do use, if any?
I use the ThinkorSwim platform available through TD Ameritrade. I didn't use the Interactive Trader platform to make any trades, live or paper money, so I can't make a comparison. I can just say that the ThinkorSwim platform has been great and they also have a mobile app that I like.
Did I do the 15 live trades in 90 days to get my original $997 I spent on the weekend training back?
The short answer to this question is no. I did not. Here's why: I signed up right away for a brokerage account, and I got a paper money account. I started using ThinkorSwim, and I purchased options trading classes online (more on that in the next section). I made quite a few trades in the first two months. They were small, one contract, maybe five contract trades. I studied the charts, and I took what I was learning in my online classes, but regardless, three out of five of my paper money trades turned against me. Within the first two months, I was around $2000 paper money dollars in the hole on my trades.
I have been trading paper money for just under four months, and I JUST got back in the black. One in five trades will naturally go against you; those are the odds. And if you let the bad trade go too far, it could take five or more good trades to recoup your losses. So mostly if I had tried to make 15 live trades in 90 days (three months) to get back my $997 from Interactive Trader, I would have gotten back my $997, but based on my paper money trading, I would have lost probably close to $3000 in the process. It wasn't worth it to me.
That being said, you might have a lucky streak, and it might work for you. I am closer-to-retirement-than-college and do not have a large savings, so I am much more reserved in my trading.
What am I doing now?
I did quite a bit of research after the Interactive Trader weekend. Besides writing the original blog post on my weekend, I researched options training. I read reviews, and I looked at different web sites and costs. I ended up on Udemy.com. If you sign up for an Udemy account, the classes are almost always $10 each. The best-reviewed instructor I could find who dove into options, options theory and advanced classes on Iron Condors, Butterflies and Calendars, etc., was someone named Hari Swaminathan. (Please note that I do not get anything – money, credit and/or free classes – from Hari for posting this. I just connected with his teaching style the best) The Monday after my Interactive Trader weekend I purchased at least 10 of Hari's classes. I also purchased a series of Forex classes taught by Kirill Eremenko and another class on options from Steve Burnich because I wanted to be thorough. I eventually bought 27 courses on Udemy. I have completed every single course that Hari has on Udemy, and I am in the middle of the first Forex course by Kirill.
As I mentioned above, I use the ThinkorSwim platform. I started making paper money trades within a week of my Interactive Trader weekend. I bought options on Apple, Shopify, Best Buy and the SPX. I keep a hand written log of all my trades, my adjustments, and what I'm hoping for as an outcome. Almost all of my early trades were losers, though Shopify did surprise me. After a month and a lot of mistakes, I listened to Hari's class on ETFs and Indexes, and I went through a six-week period where I only traded options on ETFs and Indexes. The profits were less, but they also moved up and down (typically) less and so while I learned to read the fundamentals and do technical analysis, I wasn't struggling with a stock price that dropped 12 points in one day taking my small option trade down with it.
*There is a detachment working with paper money. When I see a trade I've made going bad I think, "it's not real money" and I let go of the stress. When it is real, and it is my real money, it's going to be rough. I'm not going to lie.*
In the last two months, I'm learning more about technical analysis and the fundamentals. I'm looking at Bollinger Bands and the MACD and doing volume analysis. I sound knowledgable, right? But oh my God there is so much more to learn! I'm also reading articles online and listening to CNBC. I'm trying to understand the story behind the market, because believe me when world politics are uncertain the market reacts. Since I feel more stable in my technical analysis skills, I've been back trading options on stocks again and making more paper money. This time I've picked Amazon, Tesla and CostCo. I've made back my initial loss and have a positive balance.
Finally, I did make the leap and pay for Hari Swaminathan's Option Tiger Insiders membership. It gives me access to all his courses including the MAX mastery classes that he does not put on Udemy. I have started those more advanced courses, and that is, in part, what got me out of my safety zone and back trading options on stocks, instead of only ETFs and Indexes.
Overall, I am working on my options education and feel like I made the best choice for me.
Have I done any live trades?
No, but I do have a timeline to get there. I want to get to a point where most of my trades do well, and if they don't I know how to adjust them or when to exit them, so I don't lose too much. I started trading paper money in April, and just this month (August) I finally started feeling like I'm getting it and understanding how to analyze trades and adjust trades when they turn. I hope to make my first live trade with my own money in October. I'll keep you posted.
Have I heard from anyone at Interactive Trader about my blog post?
Until yesterday, I would have answered no. I was concerned when I first posted it that someone was going to contact me and tell me to take it down because there are no reviews online. But no one did. And my review of their service and my weekend seminar with them is in the top 10 search results on Google, so it was only a matter of time before someone read that post. I did receive a nice email from someone at the company and it makes me even more glad I took the leap and posted my original review of the training. Ultimately, I'm glad I attended, and I'm glad it set me on the path to find a training program that worked for me.
That's it for now. I'll post again on this topic for sure, because this has turned out to be something I love. It's fascinating, challenging and the learning never ends. And as the best bonus, I've heard from so many great people and been touched by all the support. Please keep emailing. I love it.
Save
Save
Save
Save
Save
Save