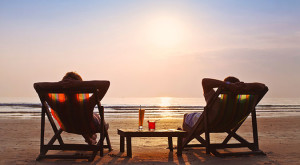 I have not retired, yet. However, that is not to say that the feelings that come along with retirement, such as, "what do I do now?" "how am I going to afford retirement?" are not feelings that I've had. I think we've all had them. These uncertainties come along with any career change, big decisions and especially with financial upheaval.
My mother was forced into retirement when she was let go from her job in her mid-60s. My father, on the other hand, retired and then went back to work and not just back to work at his old job. He went through a comprehensive physical exam and was hired as a contractor in Kabul, Afghanistan! He traveled there and lived and worked with other men (most of whom were much younger than he was) in a dormitory style residence. He did that for one year. Then my father retired again. And last year, my dad went back to work, part-time, again. He has finally retired and I hope this one sticks. My dad has the wanderlust. He has a hard time settling into one place. He's lived all over the world, he's owned more homes than I can count and he and my step-mom will often get in a car, especially in the summer, and drive. My dad, even in his late 70s knows how to use airBnB to rent homes for a week or two. They drive and stay and then rent something else and drive and stay. Even in retirement, my dad can't stay in one place, but I do think that he's finally answered that question of how he is going to afford it. For him going back and back and back to work after retirement, helped him feel secure in his financial plan.
Like my dad, I have the wanderlust. I look at maps to see how far it would take me to drive somewhere. I have places listed on a bucketlist. So while I've not experienced retirement, I have helped my parents with it. I'm also planning for it. I've changed jobs enough that I have experience with the deeper emotions that come along with retirement. It is a sign post out there leading us to a crossroads and I will officially encounter it someday, but until then, I will keep plugging along and helping others, and in turn helping myself get ready for it.